Adding Elegance with Pidy's Versatile 'Veggie Cups'
---
03 May 2022
Gourmet pastry specialists Pidy, has revealed an exciting Veggie Cup assortment to mix up your menus! These ready-to-fill pastry delights come in bite sized carriers, ideal for creating delicious canapes and gourmet delights, all whilst ticking the 'suitable for vegan's box! Their versatility means they suit hot or cold fillings, come in four flavours including: beetroot, carrot, spinach and grilled onion, and have vibrant colours that ensure they make for an eye catching and tasty menu addition.
As the popularity of vegan and vegetarian diets rise, Pidy has specially formulated their 'Veggie Cups' to ensure a tasty, quality offering for everyone including those following a meat-free diet. Made with a recipe that uses spices and dried vegetables, their scalloped sides and delicate pastry offer an interesting and aesthetically pleasing alternative to standard tarts, while maintaining an impeccable sturdy form, suitable for packing with delicious fillings. Pidy's 'Veggie Cups' maintain their crispy texture incredibly well and can be stored in a dry, ambient place for up to ten months, ideal for busy and demanding hospitality venues.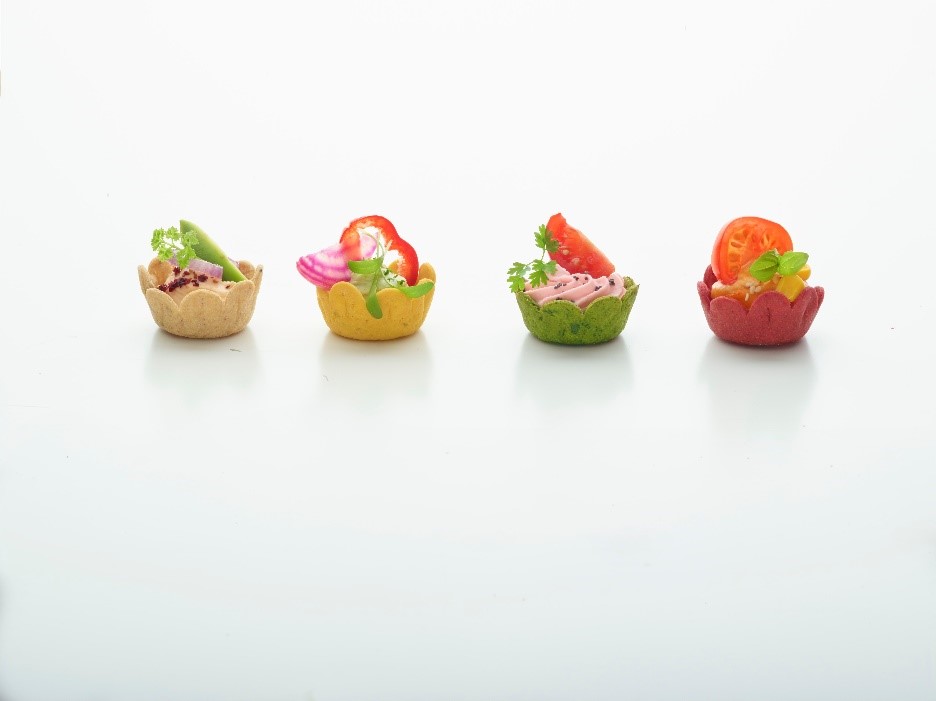 With the variety of flavours on offer, they are complementary to many different flavoursome fillings. The slight sweetness of the beetroot cup with caramelised onion, and the creamy richness of grilled goat's cheese is a deliciously simple combination and wonderfully appealing because of the contrast in colours and distinct flavours. Alternatively, for a sweet option, why not pair the beetroot cup with a chocolate and orange mousse for a unique combination with a fantastic depth of flavour that will leave your customers captivated!
'Veggie Cups' offer incredible versatility, taste, quality and a simple alternative for busy operators, impressing customers with their vibrant colours and flavours, they make for a fantastic asset to your menus whilst not overpowering a palate. Adding a touch of elegance and sophistication to any canape, for example with smoked tofu, cream cheese and horseradish, Pidy's 'Veggie Cups' are the perfect vegan pastry to mix up menus and excite both chefs, and customers.
Fabien Levet, Commercial Manager at Pidy UK:
"Canapes and appetisers are often underestimated but they're such an important element of a dining experience as they set the tone for a meal. If they're elegant and traditional, guests will expect the same from your full menu. With their creative colours, people will be excited about their upcoming meal as one small mouthful says a lot about culinary ability. Our veggie cups are perfect for ensuring your canapes leave a lasting mark. Their deliciously crispy base with a hint of flavour and wonderful vibrancy is the ideal carrier for all kinds of flavours and combinations, all whilst looking the part with their striking appearance, adding something truly unique to a menu"
For more information on Veggie Cups by Pidy, please visit www.pidy.co.uk or call 01604 705666.
Discover more from Pidy...
Recipes
Here's a few ideas to get you started - you will find the products themselves inspire you to create plenty more.
Accessories
Essential kit with which to present your creations, helping you make pastry the star of your event.
Products
If you want to find specific products to fulfil certain criteria, you can refine your search here.